« Feeling the Paint | Main | Planning for 2012 Plein Air Events »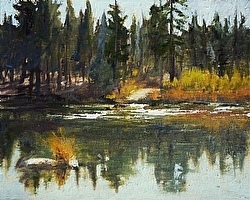 Light on the Lake (SOLD)
Fall is my favorite time of year. Growing up in rural Pennsylvania, I welcomed the change of colors in the trees, the crisp air and the rows of puffy clouds marching across the sky. I was not pleased to have to go back to school but even so, Fall captured my soul. Here in California, Autumn arrives later. While other areas have already had some snow, only now are the leaves changing color and falling to the ground here in LA.
My family didn't often have a big Thanksgiving dinner since my mother was a waitress and always worked that day, but don't feel sorry since there were always leftovers brought home after her shift. We enjoyed the turkey, stuffing and gravy for several days after the fact and I have good memories of those times. Hunting season opened and my father would go hunting for wild turkey and deer. My mom dreaded that he was such a good hunter since that meant she would have to pluck the turkey he shot or cook venison steaks from the deer he would bring home on the hood of his car. As the baby of the family with 3 brothers and 1 sister, I always got to be one of the two who competed for the wish but it always seemed they were the ones who walked away with the bigger half of the wishbone.
This has been an amazing year with increased sales, acceptance in the Oil Painters of America National Show, an award at the Carmel plein air competition, two articles in American Art Collector Magazine and having my work accepted into a gallery in Carmel. I have a lot to be thankful for. I hope that you have much to be grateful for too and that you will be spending the day celebrating with those you love. Happy Thanksgiving.
Topics:
Inspiration and Art
Related Posts:
Comments
2 Responses to Colors of Fall
Lee McVey
via sharonweaver.com18 months ago
Love your painting. I can see why it sold. Congratulations on having had a great year. Best wishes for many more!
Sharon Weaver
via sharonweaver.com18 months ago
Thanks Lee. I am feeling very thankful. Hope you had a great Thanksgiving too.
* indicates a required field