« On the Edge | Main | Colors of Fall »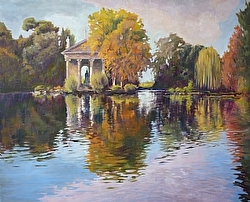 Reflections of the Past (Sold)
::: Renoir :::
I'm not an abstractionist. I'm not interested in the relationship of color or form or anything else. I'm interested only in expressing basic human emotions: tragedy, ecstasy, doom, and so on.

My first impression of a painting by Renoir is his mastery of color but in his own words, emotion is his singular goal. The majority of painters are emotional about their work but how successful are they about transferring that emotion to the canvas and in turn to the viewer? Sometimes I become so involved in the technique, the method, the colors that I forget what I am trying to capture; a feeling.
I have a show coming up with the figure as the theme. For me, working in the studio is a very different process than painting plein air. In the studio everything is planned, I have an idea of what I want to do before I ever touch a brush. This is in stark contrast to painting plein air where chance, luck and the ability to take advantage of any situation are crucial. I am in the concept stage now so I am concentrating on the emotions that I want to invoke. Without the paint and canvas to distract me, I can focus all my energy into creating a feeling. Achieving success with these paintings starts with this conceptual process. If I see the finished work in my mind, I have confidence I can achieve it on canvas.
I will keep you posted as things develop. LOVE THE PAINT.
Topics:
Inspiration and Art
Related Posts:
Comments
4 Responses to Feeling the Paint
Ruth Housley
via sharonweaver.com18 months ago
Hi Sharon,
What a very pretty painting and the best to you.
Have a good week.
Ruth