« Learning from Other Artists | Main | Feeling the Paint »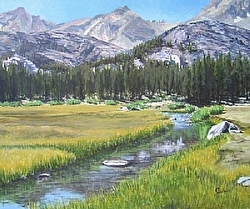 Sierra Stream
Earlier this week I read that Tommy Hilfiger (fashion designer) spent $1.4 million on Damien Hirst's "Disintegration -- The Crown of Life." If you are not familiar with Hirst you should look him up. He exploits the current need for excess with his art. He made a human skull covered in diamonds. That guy.
The work that sold to Hilfiger looks like a stained glass window from a Gothic cathedral but on closer inspection is really thousands of butterflies applied to the canvas. The use of butterflies to make pretty things isn't new. I remember years ago while on vacation, walking into a shop where butterflies were mounted behind glass, their wing colors forming intricate shapes. The pieces where lovely as are many of Hirst's work. Hirst is a master at taking natural objects and pushing our perception over the top with the use of exaggerated opulence. Judging by his success, the in your face, attention-getting pieces seem to appeal to the current brand of movers and shakers in the art world.
So can a traditional artist, like you or I, hope to find an audience? Or should we grab some notoriety by pushing our art? Gold leaf trees; pavé diamond skies anyone? Today, representational artists are facing challenges from all sides. Even artists who are established are seeing drastic drops in sales, evaporating venues and stiff competition. As artists, we all struggle with the decisions we make and are seduced by the idea of financial success. Should Hirst influence our work? Can we incorporate some of his edge into our work? Should we be on the edge or continue on a traditional course? Is achieving financial success the number one consideration? Just thinking.
Sierra Stream is one of five paintings showing at the Valley Artist Guild:
Encino Terrace Center Exhibition
November 7, 2011 – February 3, 2012
Reception: Friday, December 9, 4pm–6:30pm
Topics:
Inspiration and Art
Related Posts:
Comments
6 Responses to On the Edge
Marian Fortunati
via sharonweaver.com18 months ago
NO...
I say no because really because I paint because I enjoy painting... creating..... getting outside to see in that special artists' way....
I don't do it because I want to create and sell a school of gazillion dollar plastic sharks that fall apart after a few years.
Although it might be nice to be well known and rich... but in the long run... it's really not important, is it... as long as we have "enough" and the freedom to do what we love?