« Drawing the Figure Improves Your Painting | Main | Slipping and Sliding in the Rainforest »
I just returned from seven days in Hawaii on Oahu. What an amazing place. I always take paints and sketching stuff but the beauty of the place is slightly intimidating. I always come home without painting.
Lots of people think that Oahu is just the busy side, with Waikiki and Honolulu, but the island is so much more. Just a short ride out of the city there are pristine trails to hike, waterfalls, lush rainforest and quite beaches. Thought I would share a few photos I took during my trip.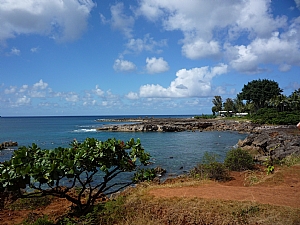 Sharks Cove
On the North Shore is Sharks Cove, a great snorkeling spot, but only in the summer. The winter months see some of the biggest surf anywhere and many surfing competitions take place then. When we where there, it was still relatively calm but the seas were changing and several rollers came in smacking against the rocks and churning up the bottom. The visibility was just OK.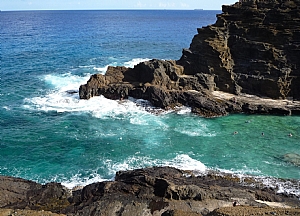 This cove along the east shore has a lovely little beach farther in, off to the right of the photo. That is where the famous love scene in "From Here to Eternity" with Deborah Kerr and Burt Lancaster was filmed. Isn't the color of the water amazing?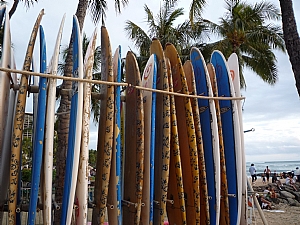 Surfboards at Waikiki
Just before sunset, most of the surfers have come in but there where at least a dozen locals still catching waves as we sat on the beach to watch the sunset.
Living on the West Coast allows me easy access to the Hawaiian Islands and I make it a point to get there as often as I can. Maybe some of you are more disciplined than I am and have done some painting there. Although I always take some art supplies, I never get around to painting. It is all I can do to just take in the charm and character of the islands.
Topics:
Inspiration and Art
Related Posts:
Comments