« Lady Gaga Understands the Importance of Image | Main | Drawing the Figure Improves Your Painting »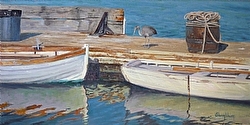 Dana Point Harbor Boats
Notoriety is an interesting phenomenon. One that can make the individual not only famous but also bring fortune. I have been intrigued by the recent fame of an artist here in Los Angeles. Alex Schaefer was in the spotlight after being investigated by the police for one of his paintings. If you are not familiar with the story here is a brief summary.
Alex was painting a bank plein air, on location, for an upcoming show. As a social commentary, he added flames to the top of the building as if it were on fire. For Alex, the burning bank symbolized how the global economy was destroyed by the banks with their reckless investments. Someone saw him painting a burning bank and called the cops. The police came out to talk to him, checking to see if he was a terrorist. Then the police came to his home to see if he was a terrorist. Then the LA Times wrote about it and published a photo of Alex and his painting of the burning bank. Finally, he sold the painting on Ebay for over $25,000. Way to go Alex.
Fame and fortune. Fortune and fame. They are intrinsically connected. I have heard the refrain that if your work is good it will sell but more and more it seems necessary to get attention with outrageous, unusual or newsworthy behavior to advance. Being propelled into the human stream of consciousness through social medium and learning to capitalize on that notoriety seems essential to financial success. Feeding the frenzy and making that notoriety last is another matter. Success is measured in many ways so figuring out were and how your definition fits into this crazy short attention span world should be one of your first challenges.
Topics:
Inspiration and Art
Related Posts:
Comments
2 Responses to Fame and Fortune
Marian Fortunati
via sharonweaver.com20 months ago
I'm reading a book now called "Poke The Box" by Seth Godin. He's basically advocating the same thing that you have been talking about in these last two posts.

Basically you need to have all the tools in order (good painting) but it takes extraordinary initiative to make something really happen. (At least I think that's what it's all going to be about... I just started.)

I guess you're home now. Hope to see you soon.
Sharon Weaver
via sharonweaver.com20 months ago
Hi Marian
Seth Godin is amazing at marketing. He really understands the necessity of trending and has lots of good advise. Sounds like one I should read too.
* indicates a required field