« Painting Snow | Main | Fame and Fortune »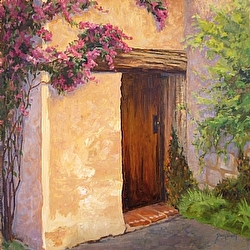 Side Door at Carmel Mission
I just happened upon the airing of an interview of Lady Gaga by the French fashion designer Jean Paul Gaultier on TV. In my former life, I graduated from Parsons School of Design and worked as a fashion designer in NYC for ten years, so I have an interest in the combined worlds of fashion and art.
The interview covered familiar ground as Lady Gaga told many of the same stories that are known to her fans, affectionately called Little Monsters. Often compared to Madonna, Gaga talked about being born famous. How fame is something that comes from within. Her love of fashion and everything artrageous is part of her personality. Pushing herself artistically and staying true to herself are priorities. She closed the interview by teller her beloved fans that she will continue to be fearless, to create and to change. Whatever you think of Lady Gaga and her music, listening to her interview she sounded like a mature, likable woman who knows what she is doing with her art and her career.
As a designer in NYC, I was in the spotlight and enjoyed wearing a costume (my fashion) as my public persona to camouflage and shelter the real me from that intrusion. I think Lady Gaga does the same thing with her over the top fashion. Being in costume is very liberating and allows an artist to be whoever they want. One of the most revealing moments was when she talked about being comfortable enough to fall asleep in her wigs and costumes. She went on to say, by living the fantasy she hopes to make it her reality.
As an artist I am constantly faced with the need to project a persona to the public. It must say, I am an artist. reconciling that with who I am can be daunting. The personal struggles of artists are documented throughout art history from Michelangelo to Van Gogh. How an artist deals with rejection, acceptance, staying connected to our muse, success and failure are the stuff of legends. Never forget that watching that struggle is very interesting to the public and makes for high drama.
Next time I'll talk about a local artists who found a national spotlight.
Topics:
Inspiration and Art
Related Posts:
Comments
2 Responses to Lady Gaga Understands the Importance of Image
Marian Fortunati
via sharonweaver.com20 months ago
Have I ever mentioned that Lady Gaga is one of Tyler's favorite singers?
At first I thought... well, I won't say what I thought... But I too, have watched interviews where it was clear that this is no fuzzy heady spaced out woman. She's a talented and savvy artist who knows how to get attention and to highlight herself that nudge the uninterested masses into paying attention!
Have fun, Sharon!!
Sharon Weaver
via weavz.fineartstudioonline.com20 months ago
The trappings of fame aren't for everyone but she has the combination of talent and crowd appeal that allows her to really push her fame over the established limits. For Tyler and other young kids trying to make their way, her message is a positive one.
* indicates a required field