« Gallery Row, Part Two | Main | Behind the Rock »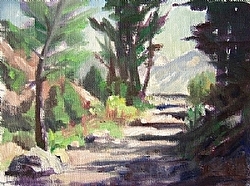 Sierra Stairs
On Saturday, I tried to do more than was possible. I started at 8 AM at Leo Carrillo Beach with Karl Dempwolf's class and then had another workshop with Robert Tanenbaum. The morning at the beach was incredible, but more on that in a later blog.

I arrived 45 minutes late to the workshop with Robert Tanenbaum, but had warned him that I would be late. He had some of his wonderful works on display and was gracious enough to go over his initial discussion.

Next to each of his larger paintings, he had a little thumbnail in color. He told me that in order to assure the best results in his larger pieces, he first works out the colors and values in a small painted sketch. I figured I would try that and instead of jumping right into the 20X16 panel I had brought, I did a small 8X6 color sketch.

Robert told me that his small sketch is often more difficult than the actual painting because he is working out all the problems before he starts on the larger piece. I think he is right because my first attempt was not successful and the second sketch is what I have posted above.

It has been my experience that every artist has something to teach you.

Comments
2 Responses to Stairway to Heaven
Marian Fortunati
via web61 months ago
Interesting. So what did you use to do the color sketch? Did you use your water based oils or the acrylics? I think I remember that Tannenbaum uses casein on illustration board to work out the issues before doing is paintings. I wondered at the time if the medium differences would cause their own issues.
I do SO agree that with an open mind we all can learn something from everyone.
Be well.
Beverly C. Turner
via web61 months ago
Wow, Sharon, I really love this "sketch". The colors seem very different from your other paintings. I had no idea you were so prolific. So many beautiful works of art.

I enjoy your notes on each as well!
Keep up the painting.
* indicates a required field