« Finding Interesting Subjects | Main | Shaping the Composition to Your Liking »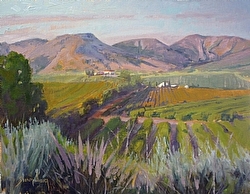 Many artists have added workshops to their busy schedules to help supplement their income. I never thought I would like teaching, but I recently I did a demonstration for a local art club. I was surprised to find it rewarding, interesting and a fun experience. I was also pleasantly surprised when the club came back a few days later and asked if I would be one of three judges at an upcoming exhibition. Adding "judge" to my list of credentials would be great so I agreed to do it.
Recently the discussion on FASO has been negative about judged events but as a plein air artist, these events are a great source of income for many artists. Well known artists take part in plein air events all over the country because of the great sales but also for the award money. I participate in several plein air competitions, have entered local and national art shows and many of these events award nice cash prizes to the best paintings. So if you are a plein air artist you may want to consider plein air competitions.
That being said, let me get back to my upcoming judging job. Most of the time, I agree with the award winners and understand the choices of the judge but there have been a few times when I admit to being baffled by a prize winner. I was wondering how my opinion could be so off and if the process was somehow different from what I thought.
Fortunately, I know a very experienced and respected judge, Jean Stern director for the Irvine Museum. I thought that I would ask Mr. Stern for some pointers about judging and see if my thoughts were on the right track. I had a long conversation with him and he revealed what a judge looks for in a painting. I realized that this information would also be helpful for artists to understand how these decisions are made.
Following is a look into how a (good) judge thinks when picking a winning painting.
1) Look for the accuracy of the light. Are all the shadows in the same direction? It is surprising how many paintings contain mistakes in the placement of shadow.
2) Consider the perspective. The drawing skills of the painter are put to the test and inaccurate perspective is a common mistake made by painters who have not been first trained in drawing.
3) Along with perspective, consider the depth of the painting. How well does it break out of the confines of the canvas to give a sense of depth and three dimensions?
4) Good composition
5) What is the point of the painting? Is there a reason for the painting? Did the painter just paint some trees or does the painting have a purpose?
6) Is there a flow sight or path into the painting and where does the path lead? Does the path hit an obstacle or lead you around the painting?
7) The judge is not there to award a prize to the best artist but to pick the best painting in that particular show.
8) It is important to understand why you don't like something. Is it because you just don't like cows or is it because the cow isn't painted well?
9) As a judge you are there to evaluate the artist's paintings but acknowledge that the artists are the ones who have done the work. They deserve all the credit.
10) Be positive. Be fearless.
Number 5 was especially intriguing to me. Only recently have I started to ask, "why am I painting this?" It seems a good judge will also ask this question.
I am now available to do demonstrations or judging for your club or group. If you are in the greater Los Angeles area contact me through my email at sharon@sharonweaver.com.
Thank you to Jean Stern for sharing his insights as a fine art judge.
Topics:
Learning Curve
Related Posts:
Comments
4 Responses to Here Come the Judge
Ruth Housley
via sharonweaver.com21 months ago
Hi Sharon,
What a nice painting with all the depth. I really like the mountains in the background.
Ruth