« Painting Distances | Main | Here Come the Judge »

Old Red at the Farmers Market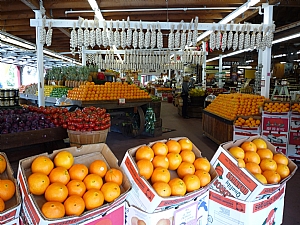 California Produce
I always have a camera with me. Well maybe not always, but I try to always carry a camera just in case I see that perfect scene to paint. Being an artist has opened my eyes to the wonders that I pass every day which make fantastic subjects for a painting. Often it is ordinary things which are the most profound.
I was driving from LA to the Carmel Art Festival when nature called and as happenstance would have it I saw a nearby farmers market, restaurant and part museum all rolled into one just ahead. Driving onto the grounds I found antique tractors, farm equipment that looked like multi-legged space creatures and rusting coaches from another era. Walking into the vast building I found an abundance of brightly colored produce, baskets of fruits, garlic hanging from the ceiling and right in the middle of the floor, Old Red at the Farmers Market.
Donated to the market from a nearby farm, the rusted old truck still was being of use to display oranges, grapes and amber-colored jars of jam. It seemed to me the truck was happy with its place of honor and glad to still be of use. Luckily that day I did have my camera with me.
Topics:
Inspiration and Art
Related Posts:
Comments