« Stoney Point | Main | Gallery Row, Part Two »
Last night, I met my husband Jeff at the 7th Street subway exit to walk over to Gallery Row where a friend of mine is exhibiting at Infusion Gallery. There is a thriving art community downtown. No, not in NYC. Here in Los Angeles.

The second Thursday of each month, the galleries along Spring Street open their doors to art enthusiasts until 9 PM. The streets were alive with people enjoying the night and art, walking from one gallery to another. I noticed so many red dots, it was obvious that among the audience there were plenty of buyers as well.

I went to see Rachel Weissberger's art, which I am familiar with since we displayed our work at the same gallery last summer. Rachel uses a rainbow of colors to evoke the energy needed for the musicians in her paintings to perform. The ordinary act of playing the saxophone becomes extraordinary under her brush work. You can see the music.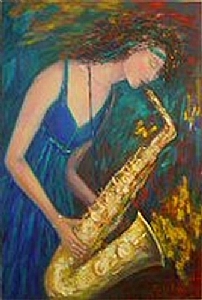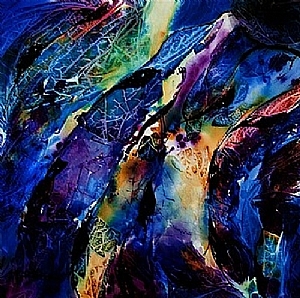 Lady Sax Player #2 by Rachel Weissberger Trusting by Trish McKinney
Another artist showing at Infusion Gallery, Trish McKinney, caught my attention with her mixed media abstracts. The use of texture and color define her work. The viewer is engaged with her struggle on the canvas. Each piece incorporates a frenetic energy that is balanced by her mastery of color.

I also visited another gallery, but more on that tomorrow.

Comments
3 Responses to Gallery Row
Sketchy-looking downtown hoodlum
via web61 months ago
I am disappointed that talented downtown artists are replacing sketchy hoodlums like myself in the historic core downtown. While you were sipping your two buck chuck and broadening your horizons, did you stop to think about all of the pickpockets and drug dealers that you are displacing? I look around for my fellow thiefs and prostitutes, and all I see are svelte trendy types with black shirts and stylish glasses. Finally I saw someone peeing on the sidewalk in a dark alley, and thought it might be someone I knew. To my surprise, it was a curator who had drank to much!

Just because downtown has moved on doesn't mean that I have to.

XOXO
Scetchy-looking downtown hoodlum

P.S. - I like your art, and I would buy it if you let me steal the money from you