« More Painting From Rancho Camulos | Main | Gallery Row »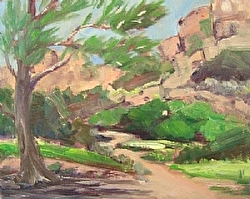 Walk Around Stoney Point
Driving by Stoney Point, I have always thought it would be a great place to paint but have never stopped. The impressive rock formations can be seen from the highway but I just didn't know how to get to them. This morning I headed out without specific directions, so it took some time to find a good place to set up.

Once there, I realized that the scene was very complicated and needed to be distilled down to the basics. I made several sketches before I had a painting in mind.

I wanted the rocks to loom over the path so you would get a sense of their size. I set them to the side, extending up, off the canvas. I also decided to really layer on the paint and got into the textures of the rocks and trees.

Every scene has its challenges and this one really required some hard decisions and editing to achieve the impression that I wanted.

Comments
3 Responses to Stoney Point
W.R. Jones
via web61 months ago
I've driven by these rocks many times and by the rock formations along the 118 leading into Simi Valley. I see so many paintings ... until I get out of the car. What? Where did my perfect view/painting go?

Painters should have special license plates allowing them to stop in the middle of the road to paint. All cars would have to wait until the work was finished.