« Composition, the Backbone of Your Painting | Main | Art Sales and the Economy »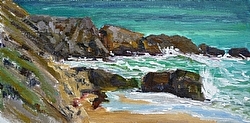 Coast at Point Mugu
I know every part of the USA has its own appeal. From Maine to Hawaii, every state is unique and lovely but as a transplant from the east coast who lives in California, I can't help but continually extol its amazing beauty. Driving up the coast, the first thing Marian Fortunati, Diane Gold and I noticed was the amazing color of the water. WOW! The turquoise blue was electric. Exploring the immediate area we found the destroyed remains of the old road that wound around the rock at the ocean's edge. The sea had undermined its foundation casting the broken concrete and rock into the ocean 100 feet below. So much for man's dominance over nature.
The surf was large and the relentless pounding of the waves, reminding me how fragile is our hold over the forces of nature. We continue to pretend we are in control but the truth is far less certain. Watching a particularly huge wave come in and cover most of the rocks I was painting, I couldn't help but be awed. It was glorious.
I painted Coast at Point Mugu with abandon, only stopping to talk with several people who expressed interest in my work. I had forgotten my own recommendation to always take a box of paintings with me, just in case. But the day was too amazing for anything to dampen my euphoria.
Topics:
Inspiration and Art
Related Posts:
Comments
4 Responses to Painting the Coast
Marian Fortunati
via sharonweaver.com21 months ago
It was so much fun painting with you Sharon!! I've missed going out and talking and painting together... I know all that time in the studio was important to your gallery, but your buddies felt the loss!

Maybe those two people who liked your work and took your card will contact you!!

I'm so far behind on posting that I probably won't post my Mugu painting until sometime next week.
Sure glad we got the chance to see that gorgeous ocean together!!!