« Rancho Roof | Main | NoHo Gallery Reception »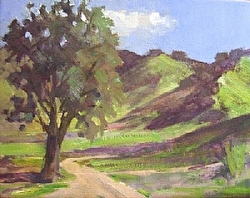 New Spring Grass
The painting I did at Malibu Creek State Park called Spring Grass has been nagging at my mind. I knew I liked the idea I had when I started the painting but something about the composition was just not satisfying, so I went back and revisited the original idea of the painting. I wanted the viewer to experience the intensity of the early morning light as it hit the new grass. I wanted the shadows of the hills and oaks in the background to contrast strongly against that green grass.

To achieve that first impression, I completely changed the composition of the painting by moving the near oak toward the center. Next, I added a path going into the hills. I simplified the hills, eliminated the oak in the mid ground, and let the colors tell the story.

Now, when I look at Spring Grass I experience the same feeling I had when I first saw this lovely scene.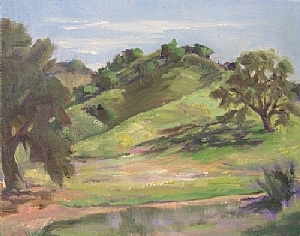 Old Spring Grass
Comments