« Sharing Your Opinions | Main | California Bounty »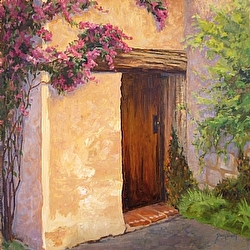 Side Door at Carmel Mission
Whether on location or in the studio, painting is always challenging. I have been inside for several weeks working on my series, The Great Art of Doors, for Gallery Elite in Carmel. It has been fun, frustrating, exhilarating, boring, easy, difficult and of course a learning experience.
"Side Door at Carmel Mission" is a wonderful example of how a little extra effort transforms a painting. Below is a photo taken after working on this 24x24 work for about ten days. I thought it was pretty good and nearly finished but the response I received from the gallery was not as enthusiastic as I had hoped. This led me to examine the painting more carefully and realizing that there were several areas that could be improved.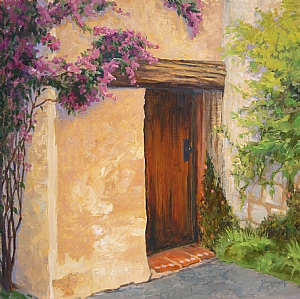 I am told bullets are good to use so I will highlight my changes using them.
First, I darkened the side wall where the

Bougainvillea

comes up the wall. But I didn't just add a darker adobe color, I played with adding blue to the shadows.
Next, I decided the entire building needed a small color change so I glazed the wall with a burnt sienna mix.
I then darkened the green plants on the other wall. They were too prominent and needed more depth.
With that change it became obvious that wall behind that same plant needed to be changed so again I added both a darker adobe color and blue shadows.
That led to the corner of the building above the door needing to be darkened also.
Now that I had more balance of color in the painting, the ground in front of the door looked too blue so I then added a putty color with a few more detail elements thrown in.
Getting close now, I added some pure color to the

Bougainvillea

to make the flowers pop.
The final touch was giving the door knob a stronger highlight.
A critical look resulted in a much improved painting (see top photo). Happy with the changes, I sent the work off to the gallery yesterday and am hoping that someone will see all the thought I poured into this piece.

If you would like to purchase "Side Door at Carmel Mission" contact Teresa at Gallery Elite in Carmel by phone 831-625-2233 or send an email to teresa@galleryelite.net
Topics:
On the Easel
Related Posts:
Comments
2 Responses to Small Changes Can Make a Big Difference
Marian Fortunati
via sharonweaver.com22 months ago
Interesting discussion of how you made the changes. I so admire your attention to detail and ability to really see where and what changes can improve the painting.

I'd be curious at some point to hear the feedback you received from the gallery. Obviously, while never wonderful to hear a critique, it was useful information!!

Good for you, Sharon. You are really having a spectacular year!
Sharon Weaver
via sharonweaver.com22 months ago
Teresa at the gallery was very diplomatic and nice. She said it was fine but it seemed a little flat. When I stood back and thought about her comment I realized that I could achieve a lot more interest and dimension with a few changes. When I emailed the improved photo she replied that whatever I did made the painting much better.
* indicates a required field