« Words of Wisdom | Main | Should an Artist Duplicate a Successful Painting? »

View from Donkey Hill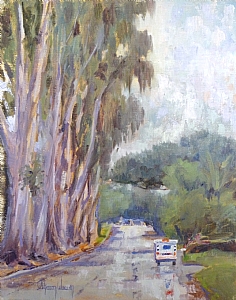 We were all looking tired on Friday night at the reception. Not unusual after painting for three days straight but there was something different about this fatigue. Rain had come to Los Gatos where it never rains in June. The inclement weather tested everyone's abilities and made us push beyond what was in front of us. I know I was not only physically tired but also mentally spent. Every painting provided a complex puzzle which needed to be solved. I often had to stop painting due to rain and go back another time when the light had completely changed. Despite the challenges, I thought the painting were fantastic and the show was a great success.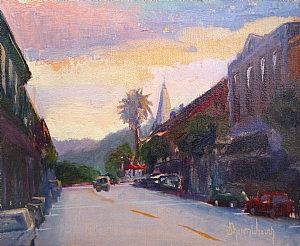 I sold my painting "Sunset in Downtown" (above) at the reception and "Vasona Reflections" sold on Saturday under the big tent which sheltered us all from the rain.
"View from Donkey Hill" is my personal favorite and was the only one that was painted while the sun was actually shining. I found out about this spot from a local who was walking his dog. I had driven into the hills around town then asked if there was a lookout nearby.
"Sure, go to Donkey Hill down the road. At least that is what we call it. Park here and walk down to the deadend. There's a gate that says No Trespassing but don't worry about that. Just go on in and hike around to the other side and then up the hill."
I did and was rewarded with a great view but it was cloudy and after sunset so I could only hope for a sunset when I could paint there. Luck was with me and the next day the sun came out at about 5PM and I sprinted up the hill, setup, and finished just as the sun set behind the hill.
Topics:
Plein Air Painting
Related Posts:
Comments