« Workshop with David Gallup | Main | Fallen Tree »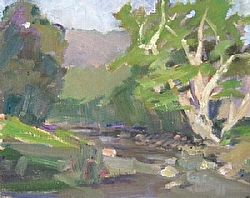 Looking Downstream
I had my third plein air class with Karl Dempwolf this morning and it was great. Karl asked me to call him over to my easel before I started to paint so he could show me how he starts a canvas.

Like magic he put in all the values of the scene with one neutral color. This simple step did three things for my painting. First, it clarified the light and dark areas of the painting and kept the values distinct throughout the process. Second, it allowed me to remember the original impression even as the morning progressed and the shadows changed. Third, this under-painting gave the canvas a tint of color that looked great showing through the paint if I didn't completely cover the canvas. I found this simple step so liberating I actually finished the first painting in two hours and started a second.

This old tree clinging to the bank next to the stream was washed with light. There hasn't been any water in this stream for the last two years so this was a rare opportunity to paint while the water was running.

I used the vanishing lines theory from David Gallup's workshop when I put in the mountain range in purple and the hill in front in green, but used the same values. This kept the background uncluttered so that your attention is on the stream and tree. If you look through the leaves of the trees you can see the purple under-painting show through. The bright highlights on the tree and the rocks in the water, were the last objects needed to show the intense morning light.


Comments