« Art Fairs: Another Scam or The Best Way to Market Your Work | Main | A Dream Plein Air Event »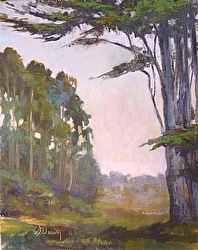 Stand of Eucalyptus SOLD
I am off to Carmel on Tuesday for the Carmel Art Festival 2011. Preparations are in full swing and I will be loading up the car soon. It is the third year I will be taking part and I am looking forward to the challenges which are unique to a plein air competition. My car will wind up stuffed with canvases, frames, paint, books, suitcases, food, portfolios, turpentine, brushes, laptop, and anything else I may need in the two and a half days of painting.
I always look forward to seeing the other artists, clients and of course the wonderful scenery that surrounds Carmel. The weather can be hit or miss with June gloom always a possibility at this time of year. I know it will be cool during the day and cold at night so I've got my long johns and heavy coats too. When standing in one spot for hours painting it is easy to be chilled to the bone.
I need to produce at least two paintings in two days but I usually try to get four completed by Friday evening. The Carmel Art Festival 2011 website will have all the paintings available through an online silent auction on May 14. I'll try to post about my adventures on the trip but if not you'll hear from me next week.
Topics:
Plein Air Painting
Related Posts:
Comments
1 Response to Surviving a Plein Air Event
Marian Fortunati
via sharonweaver.com24 months ago
Good luck my friend... AND have a great time!!
I look forward to hearing about all of your adventures!
* indicates a required field