« Painting with Ghosts | Main | Surviving a Plein Air Event »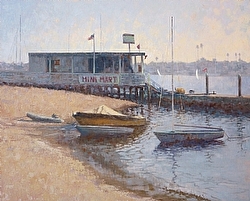 Hangin' at the Mini Mart
I recently saw an article in The New York Times discussing the dozens of art fairs that are sprouting up all over the country. (Read here: Art Fairs Spring Up All Over this Month.) It started a train of thought about how the shift of responsibility to the individual is affecting every artist. We keep hearing about how empowering the Internet is for artists. In theory our work can be seen by potentially thousands, even millions of people. It is great "exposure." (See the article in FASO newsletter titled "Exposure: The Ugly Myth.") So we all have to have a website, a blog, a newsletter. The "exposure" is good and I enjoy it, but sales don't necessarily follow.
Then we hear that galleries aren't what they used to be. Many are closing, most are just trying to weather a slow market and maybe an artist shouldn't even bother with a gallery. After all, who can sell your work better than you can? Enter art fairs. Now the financial and marketing responsibility have completely shifted to the artist. There are all kinds of art fairs, from neighborhood sidewalk shows to large convention center extravaganzas. Some of the larger art fairs will attract galleries but many share the idea that the artist pays for the space and sells their own work. The business of art is now completely the responsibility of the artist. Some artists will like this idea and enjoy being in control of their own career. Others will be intimidated or not have the resources to jump into this arena. It is an interesting dilemma which only adds to the stress and pressure of being an artist.
How do you feel about art fairs? Have you had success? Is it worth the effort, time and money?
Topics:
Marketing 101
Related Posts:
Comments
15 Responses to Art Fairs: Another Scam or The Best Way to Market Your Work
Lisa Whiterose
via sharonweaver.com24 months ago
I agree with Sally, they are great for small items that are easy to transport but my bigger items never sell. And charging an artist to be at an art festival is rediculous in my opinion. I dont make enough money selling my art to be able to pay to be at a show and then hope I make what I paid and then more to make it worth it. There is one show that I love though, The Columbia Gorge Art Festival. You pay no fee to be there. You can stay at your table or not, they have people there who watch the tables and take the money and they send you a check for your sales 2 weeks later. All you agree to, is to give 25 percent of your sales to the Corbett Education foundation. If you sell nothing you,ve lost nothing. I never sell large items at this one either, only the small inexpensive, easy to transport items.