« Arlington Garden Fundraiser | Main | Article on Empty Easel »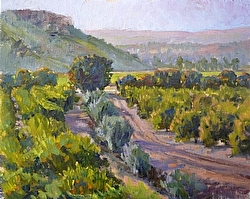 Orange Grove in the Late Afternoon
The colors in the afternoon are very different from the early morning light. In the morning, the shadows are blue and there is a lot of yellow in the sky which is reflected everything. By contrast, the late afternoon light tints the world in purple and orange. Recently, I have painted almost exclusively in the morning so I needed to paint some afternoon light.
I traveled out to the farms in Camarillo and found the prettiest farm nestled against the mountains. After taking hundreds of photos, I set up to paint a 12x12 gesso board. I am so glad I tried this before going to Carmel because I found the board very different and not in a good way. The paint slid around like greasy spaghetti sauce. I struggled with it for about 2 hours not finding anything working right and wiped the entire mess off at about 3:30.
Luckily, I also had a little 8x10 linen panel with me and with a few hours of remaining sun I started another painting. The difference was amazing. The paint spread onto the canvas with a smooth and creamy texture. There are artists who use the ultra smooth surfaces to paint on but I discovered, I am not one of them. I like the texture of linen and the way paint sticks to it. If anyone wants two 12x12 gesso boards I'll sell them to you cheap.
Topics:
On the Easel
|
Plein Air Painting
Related Posts:
Comments
4 Responses to Painting with Afternoon Light
Laura
via weavz.fineartstudioonline.com25 months ago
HI Sharon, this is a beautiful painting, the sense of distance and colors are masterful. I paint on the gessoed panels all the time but your right it's a different approach then on linen. You almost have to use the panel as part of the process and mix the paint on the panel rather then the palette. Also the paint kind of sets up while your working on the gesso and all of a sudden you will have great control and can add darks and lights without making mud. Don't give up entirely on them, they have their use. Happy Easter and good luck in Carmel, knock their socks off! Laura