« Yellow Roses at Old Mill | Main | 6 Inch Squared »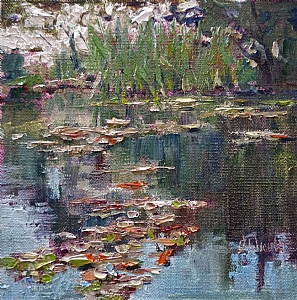 A few days ago I posted a blog with my painting of a lily pond at Descanso Gardens on my other blog Reflections of an Artist. My friend, Marian Fortunati who painted with me that day, commented that the actual painting was much nicer than the photo. That inspired me to try again to produce a more accurate image. Above are the two different photos. I am not satisfied with either one but hey I'm not a professional photographer. Do I need to be? Maybe.
This got me thinking about the impact the internet has on an artists learning curve. Not only must I be a great artist but a great photographer, an expert at Photoshop, a marketing genius, a webmaster and the list goes on and on. The internet has opened the world to every artist, which is amazing but, it has also changed how our images are shown to the public. Everything is done digitally through email or websites. Galleries, plein air events and art specific websites all demand not just an image but a great image. As my paintings have become more subtle, I have found it more and more difficult to produce a satisfactory image which shows the intricate colors and brushstrokes. I have had photographers take photos of my work only to be even more disappointed.
I realize that if I do not present my art with an accurate reproduction, it won't sell and I risk being left behind without an audience while other artists will move ahead of me. So what to do. I continue to improve my photography, I try to stay ahead of the learning curve and I listen to how other artists deal with this problem. I take a lesson from my art; to become the best I will try anything.
Topics:
Learning Curve
Related Posts:
Comments
8 Responses to Artist, Photographer, Webmaster, Etc.
Marian Fortunati
via sharonweaver.com26 months ago
Unfortunately VERY TRUE..... I feel the same way... The way my photos turn out (color, ability to capture without glare, etc) really depends upon the time of day and the particular settings I choose when I photograph the work.

I used to think that having a professional photographer do the work was the answer, but I too, have been disappointed....... AND the cost has gotten really prohibitive.

So... keep painting, keep taking photos... and... well you DID say you were in the market for a new camera didn't you???