« Oil Painters of America 20th Annual National Exhibition | Main | Artist, Photographer, Webmaster, Etc. »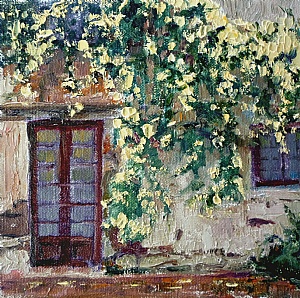 Tea Rose
March is cold or it is warm, but in Southern California, either way the flowers are in full bloom. So if you want to paint flowers, now is the time to get out there and do it.
I was lucky to be at the Old Mill in San Marino last weekend and saw the lovely pale yellow roses cascading down the wall around the back door. I didn't waste any time and came back to capture the flowers before they started to fade. The dark wood door and window provided the anchors for the painting. The pale yellow of the flowers contrasted beautifully against the hunter green of the leaves. There were so many different textures; the ragged wall, the soft flowers, the sharp windows, the shaded back patio of the Old Mill provided a cornucopia of delights to paint.
Topics:
On the Easel
|
Plein Air Painting
Related Posts:
Comments
4 Responses to Yellow Roses at Old Mill
Marian Fortunati
via sharonweaver.com26 months ago
Fun!!! Glad you and Diane decided to do it. You always have done well with windows and doors!!

Did you enter the 6x6 show??