« Beachcomber at Crystal Cove State Beach | Main | Echo Park Paint-Out »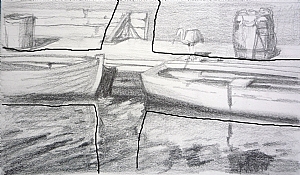 Deciding what to paint is always an interesting process. In a recent post I talked about how I pick a plein air painting as inspiration for a larger studio piece,
Painting from a Plein Air Study
, but my latest studio work was inspired by a photo, not a painted study.

Photos pose different problems. With a plein air study, I have already edited out unnecessary objects that can confuse the composition but a photograph still contains every single detail so when picking a photo I try to forget about the details. Without the luxury of an edited image, I focus on composition and especially look for unusual shapes.

I remembered a photo I had taken at Dana Point during the San Clemente Plein Air Competition 2009. When I found the photo, it was better than I remembered with a cross armature (see my sketch outlining the structure of the composition).

I loved all the quirky details of the image, the bird, the garbage can, the barrel, the peeling paint but it was ultimately the interesting shapes that convinced me this would make a wonderful larger painting. A cross armature is a very dramatic structure and after doing the sketch, I decided the horizontal arm would be even more dramatic using an elongated canvas.

Remember when picking a photo to use for a larger painting, first consider the composition, look for interesting shapes, emphasize the structure and edit the details.
Topics:
Artist Demo
Related Posts:
Comments
2 Responses to Painting Unusual Shapes
Marian Fortunati
via sharonweaver.com26 months ago
Sharon,
Interesting discussion. Can't wait to see the finished painting!
Sharon Weaver
via sharonweaver.com26 months ago
Thanks Marian. I will be posting the finished painting this week.
* indicates a required field