« Become Your Own Best Critic by Setting a Higher Standard | Main | Painting Unusual Shapes »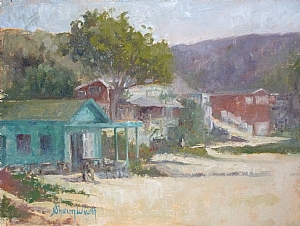 The final painting I did during the Calvin Liang workshop was of the Beachcomber Restaurant at Crystal Cove State Beach. It is a local landmark and a favorite subject for many artists. I chose it because the colors are so fun and I enjoy painting buildings. I like the hard edges and interpreting the perspective.
It is tempting to paint everything in focus, with sharp edges, but often it is best to let the viewer's imagination fill in the details. Calvin reminded me that the suggestion of a window will create a stronger image than painting the complete shape. On the windows of the turquoise building note how the bottom half fades into the building without any sharp edge. I especially wanted to down play the windows because the shape of the building is what is important. The windows only add interest not structure. This device can be used not only for windows and buildings but also trees, light poles and all vertical objects. Softening the edge toward the bottom of an object is a technique which suggests detail without confusing the whole.
For me the most important aspect of being an artist is to constantly learn and grow. Workshops are a wonderful way to connect with other artists, work on new techniques, improve existing skills and remember misplaced rules. I think of a workshop like an oil change for an artist, it breaks everything up and gets me humming.
Topics:
On the Easel
Related Posts:
Comments
2 Responses to Beachcomber at Crystal Cove State Beach
Marian Fortunati
via sharonweaver.com26 months ago
Sharon,
Another great post. I remember that Calvin said much the same thing to me, but I think your windows on that turquoise building indicate a level of understanding and application that I have not yet achieved.
WELL DONE!!!
Sharon Weaver
via weavz.fineartstudioonline.com26 months ago
Thanks Marian and I understand how you feel. Even though I know to do this it just isn't automatic.
* indicates a required field