« Malibu Lagoon Painting | Main | Plein Air Painting of Autumn Colors »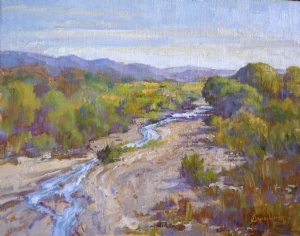 Recent Rain
Maybe you have seen the Southern California red tagged houses and the mud slides on the news. Our earth isn't too stable here, so with all the rain sometimes it just slides away. Hill residents look down on us lowly valley dwellers but we are the lucky ones since we only have to worry about floods and earthquakes.
I painted this a few months ago in Valencia of the Santa Clara River basin for a show the California Art Club is having at Marston's Restaurant. It is the first time I have actually seen water in the river. Haven't yet heard what paintings, if any, will be in the show but I am sure it will be announced any month now.
I had a wonderful surprise as I was painting. A large coyote came out of the brush for a drink in the stream. I didn't notice him at first and by the time I got my camera he was gone.
Topics:
On the Easel
Related Posts:
Comments