« Calvin Liang Painting the Ocean | Main | Get Out the Vote »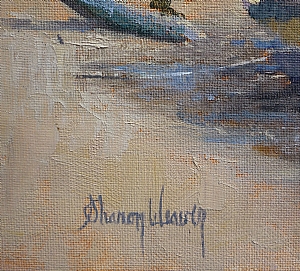 I recently read an article in the FASO newsletter about the importance of the artist's signature. I have always considered my signature as an integral part of the painting but until I read this article I was under the impression that I had mine all worked out.

I sign my painting with S Weaver, using my first initial followed by my last name. The article I read brought up an interesting problem which I had not anticipated. What if a potential buyer admires one of my paintings and then Google's my name. Would that person be directed to me? Well guess what listings comes up on the first page when I Google S Weaver? Lots of Sigourney Weaver. The remaining links on the rest of the first page are also not me. Going to page 2, 3, 4, 5 6 7, 8, 9, 10, 11, 12, 13, 14, 15, 16, 17, 18, 19, you get the idea. On all the pages I looked through under S Weaver, I am nowhere to be found.

This creates a dilemma for me. I believe it is necessary for me to change my signature to include my full name: Sharon Weaver. I have recently tried this on some paintings and have liked the results but am concerned that it could be confusing or show an inconsistency unfortunately I see no other way out. So from now on Sharon Weaver is my signature of choice.

If you are an artist you should Google your signature and see if you are listed. I hope you are pleasantly surprised and find it on the first page, but if you are like me you may need to reconsider that signature.
Topics:
On the Easel
Related Posts:
Comments
3 Responses to What is in a Name?
Marian Fortunati
via sharonweaver.com29 months ago
You're right, of course... I googled them both and although you came up with S. Weaver once... When I googled Sharon Weaver, you came up lots and lots...

Good choice... And it's a pretty name anyway.