« Calvin Liang Landscape Demo | Main | Calvin Liang Painting the Ocean »
It was another overcast day as we arrived at
Crystal Cove State Beach
near the
Beachcomber
restaurant. Everyone was a little confused with the composition until someone asked him how he was going to paint the large area of beach. He explained that the canvas would be cut off and that the painting ended where he had put some masking tap across the canvas. If you look below at the X, you can see where the painting ends.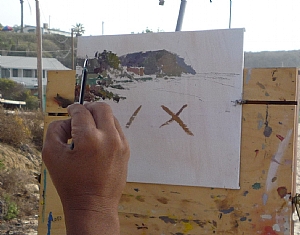 Calvin Paints the Shadows
Calvin began painting in his deliberate way. He told us that jumping the eye from the background to the foreground helps to establish the correct color temperature. Again, he mentioned to always vary your brush strokes which allows the under color to show through just a little. This method of applying paint gives the painting depth and interest.

He said that a successful artist paints the air. I think this is a wonderful way to approach a painting. Many times I have painted at the same location with the only difference being the weather. The air is really what changes; the humidity, the light and the temperature all have a profound effect on color, value and mood.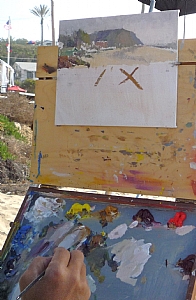 Calvin Works on the Details
Calvin told us to establish a relationship between the big shapes before working in the details. If you are careful with the shapes than the details at the finish can be much more refined. The hardest edges are saved for the final step and details are concentrated on the point of interest.

Calvin Liang's Completed Second Demo

Throughout the day, Calvin again emphasized the need to paint the shape, not the thing. He repeated his mantra of the first day; instead of the thing (the building, the ocean, etc) think of 1) Shape 2) Value 3) Color 4) Edges
Topics:
Artist Demo
Related Posts:
Comments