« Necessity is the Mother of Invention | Main | Calvin Liang: Second Demo »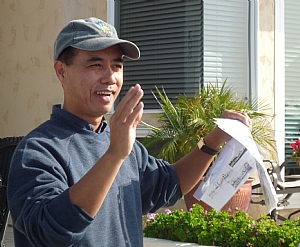 Calvin Liang
Talks about Shapes
I admire many artists but few can compare with the skills of Calvin Liang. I recently took a workshop in Laguna with Calvin and am still processing the information. The first day, overlooking Balboa Island, Calvin began by discussing the four basic principles to remember as you paint.
1. SHAPE- Paint the shape not the thing. If you paint the thing it will never look right. Also keep the shapes varied and unique
2. VALUE- In plein air painting keep your values to five
3. COLOR- Decide whether a color is cool, warm
4. EDGES- Vary the edges between soft, sharp or lost throughout the painting

Watching Calvin begin to draw in the basic forms, it is obvious his drawing skills are amazing. He connects all the dark shapes to make an interesting composition.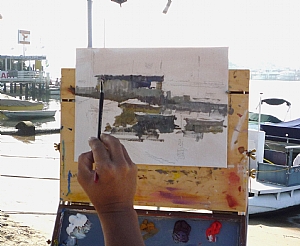 Calvin Applies the Darks
Immediately, I noticed that Calvin's brushwork is very deliberate. Every stroke is applied with care and he leaves nothing to chance. He uses different size brushes even in the application of the shadows. The intent was apparent in every brush stroke. Calvin also told the group not to be afraid to apply paint, even in the beginning when first painting the dark areas he put down a lot of paint.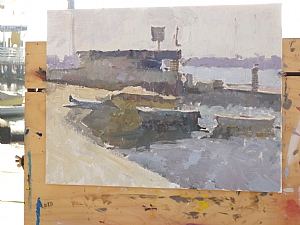 Colors are Blocked in with Varied Brush Work
On this day it was hazy and the lighting subdued, so #3 Color temperature is most important. Value takes a back seat. Calvin kept explaining that the colors were very dirty but I thought his gray colors were full of life. He told us to paint the shapes without detail but note the interest in the varied brushwork throughout this stage of the painting.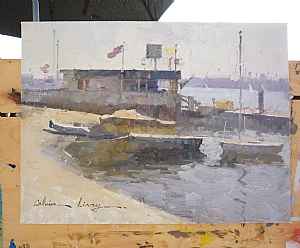 Finished Painting by Calvin Liang

Now it was time to put in the details and refine the shapes. Here is where Calvin is a master. A few added details brought everything together. Watching him play with the paint was wonderful. He would smear it in some places and make a sharp line in others. He added the flags and the boat fittings with the smallest of brushes. Note that even in these details the line is broken, the color lighter at the bottom and darker at the top. His name is a wonderful addition to the painting.

You can see the painting I did near the same spot called "Rest Stop."
Topics:
Artist Demo
Related Posts:
Comments
1 Response to Calvin Liang Landscape Demo
Patty K. Dillon
via sharonweaver.com24 months ago
Paintings can be almost as intricate and perfect as photographs; they also offer a lot of artistic license; you will get to look at the lush landscape and the artist's ability to work creatively at the same time.
http://www.pickyourart.com

* indicates a required field