« Half Dome in Yosemite | Main | Mian Situ Demo: Finished Portrait »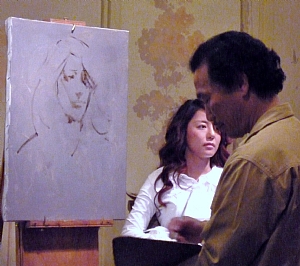 I have admired Mian Situ's painting both at the Gold Medal Show for the California Art Club and at the Masters of the American West Exhibition at the Autry Museum so when the CAC scheduled a portrait demo with him I jumped at the chance. It involved four 20 minute poses with a model. Above is his initial sketch and the model he was painting.

Mian was quick to block in the massed and was soon adding the lighter colors on the face.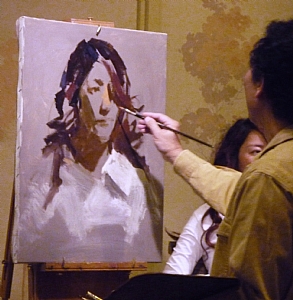 Mian Situ
blocking in the main shapes
The primer is a combination of black, burnt umber and white. It is a soft putty color that can look blue against the peach skin tones or tan against the black hair. Mian mentioned that he rarely uses black from the tube but instead will mix a black to keep the darks lively.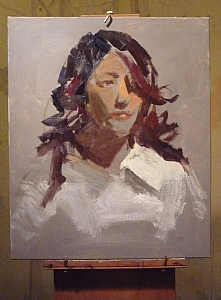 Portrait at the first break
After the break, Mian continued to lay in the different plains of the face. As he worked on the portrait, the features began to emerge.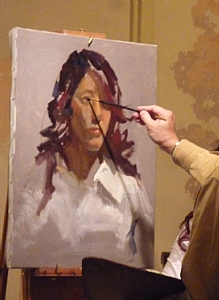 Starting on details
The California Art Club did a wonderful job of setting up the room so everyone had a great view. They also providing two screens with a projected image of the portrait as Mian was painting.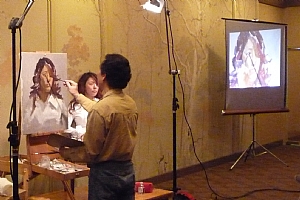 Here is the painting at the second break.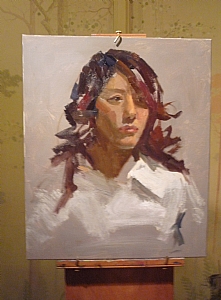 I hope you will come back to see the final two segments of this demonstration by Mian Situ in tomorrows post.
Topics:
Inspiration and Art
Related Posts:
Comments
4 Responses to Mian Situ Demonstration
Sharon Weaver
via sharonweaver.com30 months ago
Yes, my seat was perfect but the way it was arranged gave most everyone a great view. They also had two screens with the image projected for those in the back. Mian is inspiring.