« Colors in the Fog | Main | Wildflowers »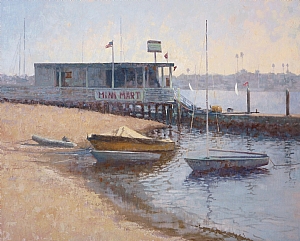 Hangin' at the Mini Mart
As a painter, I view color is an endless source of inspiration and aggravation. I want to duplicate on canvas that streak of bright flowers. The problem is how. To a non-painter, it seems pretty straight forward. Mix the color and paint it, but those flowers on that hill are not just one color. They are a combination of yellows and golds; and those yellows and golds change depending on the color next to them and the shadows cast on them and the green of the grass showing through them and the sunlight on them. The possibilities are endless, the choices confusing.

I remember the first time I studied the cathedral series by Monet. I recognized it as an impressive manipulation of color by a master to create form. These painting are relevant to my current work so now is a good time to revisit this wonderful series. Take a look at Monet: Rouen Cathedral Series if you are not familiar with them or haven't looked at them in a while.

In person these paintings are even more amazing. The paint is thick with multiple colors layered on top of each other. There is color within color and up close the form of the cathedral is lost within that patchwork of color and texture.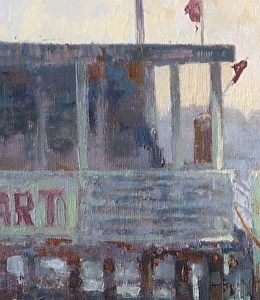 Detail from Hangin' at the Mini Mart


The painting above, Hangin' at the Mini Mart, is the catalyst for my current obsession with color. For more see my blog Sunset Painting. The Detail of hangin' at the Mini Mart gives you an idea of the layers of color, the texture of paint and the way the different colors coalesce to create form. So painting that yellow flower on the hill has taken on a complexity with endless possibilities.


The paintings featured in my blog are for sale. Contact me at sharon@sharonweaver.com
Topics:
On the Easel
Related Posts:
Comments
7 Responses to Colors: It's All in the Details
Marsha Robinett
via sharonweaver.com38 months ago
Sharon,
This painting is just breathtaking. I really enjoyed the added closeup of this piece. Your explanation of the way we see color is right on and brings the painting to life. It makes you want to look closer to see just what colors you used. Thanks for sharing.