« Painting Trees with Attitude | Main | Colors in the Fog »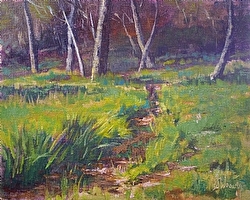 I am continuing my expanded use of color into my plein air work. Remembering to incorporate vibrating colors, I picked this grassy path to paint. The contrast on the path caught my eye and I loved the vibration of the green with the rust colored earth. The strong morning light lit the grasses and the far hill was lost in the shadows.
With this painting, I also incorporate vibrant colors into my shadows. No white is used in the background area except for the sun on the tree trunks. The field of grass is a study in various greens with peach and rust accents showing through. To buy this little gem just click on the title.
Topics:
Plein Air Painting
Related Posts:
Comments
2 Responses to Paint with Color
Marian Fortunati
via sharonweaver.com38 months ago
Hey, Sharon...
It turned out really nice!!! How much tweaking did you do after you let it percolate at home???
Sharon Weaver
via sharonweaver.com38 months ago
Very little changes from the field. I added a blue green on the right side in the grass, made the front tree trunk thicker, added a little more rust in the shadow, and a few bright grass leaves for accent. If the colors harmonize the painting will neutralize as it drys.
* indicates a required field